About Us
We are a family owned and operated company based out of Ravenna, Ohio. Starting from a one man show in 2002 and growing into a full service business by 2004. We have truly enjoyed the journey and the people that we have done business with. The greatest blessing that we get is to see other families enjoying the landscapes, patios, and lawns that we have installed.
Family is a priority to us, that is why our montra at Eyerman Landscaping, Inc. is to "do the job right the first time". This way we can spend more time with our families, including our clients. We understand the strains of everyday life and we strive to ease those landscaping challenges for our clients. We look forward to working with you soon.
Come see us February 7th through 14th at the Home + Garden show at the IX center. Discounted tickets online (type in promo code EYERMAN).
http://www.wkyc.com/life/home-garden/home-and-garden-show-returns-to-cleveland/33299155
Chris Eyerman
President 330.221.1557 chris@eyermanlandscaping.com ICPI Certified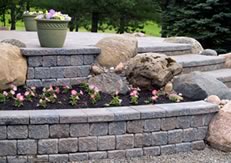 Our Services
Outdoor Living Areas
Patios, hardscapes, fire pits, bars, retention walls, mulch beds, and shrubbery.
Pergola's, Pavilions, Gazebo's, etc.
We are Authorized Dealers of Berlin Gardens, LLC. Visit their website at www.BerlinGardensLLC.com and call us today to start designing your project
Low Voltage Lighting
Design and Installation
Spring & Fall Clean-up
Leaf and debris removal, snow damage repair, perennial cut back, removal of downed limbs.
Turf Maintenance
Weekly maintenance, fertilization, grub control.
Tree and Shrub Care
Trimming, fertilization, debris removal.
Snow Management Services
24 hour dedicated service, sidewalk maintenance, de-icing, zero-tolerance package, skid steer and loader services.
Bed Maintenance
Weeding, edging, mulching.